October has action all month long for poker players in Pennsylvania. Tournaments with big guarantees are happening all across the Keystone State.
Philadelphia includes some new personnel in its ranks setting up tournaments, and Pittsburgh still has the highest Bad Beat Jackpot in the country.
Each month, PlayPennsylvania takes a look at poker tournaments in the state, along with cash game promotions. October shows promise of being one of the biggest months of the year for Pennsylvania online poker players.
Live! Casino Philadelphia offers $559,000 in guarantees in October
Live! Casino Philadelphia has nonstop poker action all October. Its largest event of the month takes place from Oct. 25-29. The poker room will host a $500 MegaStack event with $200,000 guaranteed.
A week prior, a $360 buy-in, $150,000 guaranteed tournament, will run from Oct. 18-22. These are both multi-day events. Players that survive their day ones combine on Sunday to play down to a winner. Besides the major events, daily events will be held in the poker room:
Mondays: $140 NLH Bounty Quad Stacks – 6:15 p.m. – $3,000 guaranteed
Tuesdays: $160 NLH Bounty – 6:15 p.m. – $6,000 guaranteed
Wednesdays: $140 NLH Quadstacks – 11:15 a.m. – $5,000 guaranteed
Thursdays: $130 NLH – 11:15 a.m. – $3,000 guaranteed
Fridays: $250 NLH Black Chip Bounty – 6:15 p.m. – $8,000 guaranteed
Saturdays: Varying tournaments each week
Sundays: $130 NLH Triple Stacks Turbo – 6:15 p.m.
*Daily tournaments may vary with upcoming special events, so check with the poker room before entering.
Competitive Esports gamer, Jiraj Hampton, brought home big cash at the final table of last month's MegaStack series. He battled a field of 766 players to bring home the biggest payday of his tournament career.
TOP PA ONLINE POKER SITES:
WSOP PA
PokerStars PA
BetMGM Poker PA
Borgata Poker PA
Rivers Casino Philadelphia secures new poker room manager
In September, it was announced that David Grubb would take over the role as Poker Room Manager at Rivers Casino Philadelphia. Grubb is well known in the area and has been around the game for quite some time.
"I started off as a Part time Dealer at the Trop in AC at a young age of 18. I held every position from the bottom to the top the past 23 yrs.," Grubb said on his Twitter. Now at 42, he has a poker room that calls him manager. "I love the game and love the business."
In his new role, Grubb has already started to mix things up. He announced this past week that a weekly PLO cash game will be making its way into the room. He has been active on his Twitter and posted the following:
"PLO Players Wanted!!! Join us this Monday, October 2 ,$5-$5 PLO • $500-$2,500 Buy-In. Cards will be in the air at 6 p.m."
No major series have been announced yet, but Rivers Philadelphia will be hosting daily poker tournaments and daily high hand cash games. Here's an overview for the month:
Mondays: $700 NLH Bounty – 6:15 p.m. – $4,000 guaranteed
Tuesdays: $140 NLH – 6:15 p.m. – $6,000 guaranteed
Wednesdays: $140 NLH – 6:15 p.m. – $5,000 guaranteed
Saturdays: $70 NLH – 10:15 a.m. – Beginners tournament
Sundays: $160 NLH – 11:15 a.m. – $5,000 guaranteed
Parx Casino delivers double dose of tournament poker in Pennsylvania
Parx Casino's poker room is slowly getting back into the tournament game. After recently announcing the return of tournament poker, the games have been steady. The double dose of tournaments each week has been averaging around 100 players each event.
There has been no word on expansion of bigger events yet. The current tournament schedule is as follows:
Every Monday beginning Aug. 21 at 7:15 p.m. – $200 buy-in Double Green Chip Bounty NL Hold'em
Every Friday beginning Aug. 25 at 11:15 a.m. – $340 buy-in NL Hold'em with re-entries
Rivers Casino Pittsburgh features largest Bad Beat Jackpot in US
The current Bad Beat Jackpot at Rivers Casino Pittsburgh is on the heels of the record it previously set. As of Oct. 3, the jackpot is at $802,961 and is getting close to the $1.1 million record.
Rivers Pittsburgh will host daily one-day tournaments in October:
$125 NLH Tournament – 12 p.m – every Friday
$160 NLH 2x Green Chip Bounty – 4 p.m. – every Wednesday in October
$260 NLH Deepstack Tournament – 11 a.m. – Saturday, Oct. 7 and 21
$500 NLH Deepstack Tournament – 11 a.m. – Saturday, Oct. 14
$340 NLH Deepstack Tournament – 11 a.m. – Saturday, Oct. 28
$20,000 poker tournament at Live! Casino Pittsburgh this month
Live! Casino Pittsburgh's Poker Room will run a one-day, $20,000 guaranteed tournament on Oct. 21. The event will be a $400 Black Chip Bounty, which means every time a player eliminates an opponent they win a $100 cash chip. The poker room will also run daily events throughout the week:
Sundays: $80 NLH Bankroll Builder – 2:15 p.m.
Mondays: no regular daily event
Tuesdays: $120 NLH Bounty Fat Stacks – 11:15 a.m.
Wednesdays: $80 NLH Bankroll Builder – 6:15 p.m.
Thursdays: $150 PLO – 6:15 p.m.
Fridays: $130 NLH Triple Stacks Turbo – 6:15 p.m.
Saturdays: $160 NLH Green Chip Bounty – 11:15 a.m.
In September, a five-man chop was made in the $300 event. Two players won $7,200, and third through fifth scored $5,583. The event saw 141 players in action.
Pennsylvania poker highlights massive October Bad Beat Jackpots
Rivers Pittsburgh may have the biggest, but Pennsylvania is full of growing Bad Beat Poker Jackpots. Check out the latest bad beat updates as of Oct. 3 in all live poker rooms across the Commonwealth:
Parx Casino – current jackpot: $134,803
Mohegan Pennsylvania – current jackpot: $299,855
Mount Airy Casino Resort – current jackpot: $115,306
Rivers Casino Philadelphia – $50,000 set Bad Beat
Rivers Casino Pittsburgh – current jackpot: $802,961
Hollywood Meadows Racetrack and Casino – current jackpot: $178,725
Wind Creek Bethlehem – current jackpot: $212,929
Borgata Poker Fall Mini Series canceled, Winter Open on the horizon
Players were all lined up in anticipation of the return of the fall series. Unfortunately the BetMGM cybersecurity situation forced the Borgata to call off its big tournament a week before the kick-off event.
Even though players were disappointed, there is some hope in the near future for a notable series at the Borgata in Atlantic City. Recently, Poker Operations Director, Kellie deCelis, went on the Nerdthusiast Poker Podcast and announced a big Winter Open series is in the works.
Stay tuned with PlayPennsylvania for more updates soon.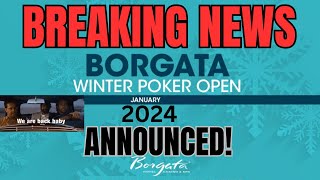 The post Pennsylvania Poker Tournaments Guarantee Millions This October appeared first on Play Pennsylvania.